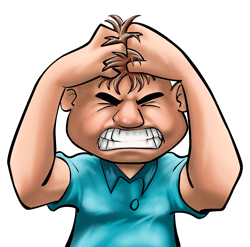 Whoa. Slow down. If you aren't used to troubleshooting Apple or other devices, then you've probably had that thought enter your head. But it doesn't have to be that way. To get you through the hard times, here are some common speed bumps and simple troubleshooting techniques that solve a lot of iPad issues:
Power Off: it's simple, but effective. Sometimes your iPad just needs a break. Hold down the power button until you see the red slide. Power off. Then hold the power button down to turn it back on again.
Reset it: everyone needs a reset every now and then. Press and hold your power button and home button simultaneously for at least ten seconds.
Update your software: updates happen quite frequently. And you'd be surprised to find out what won't work if it's not up to date. Go to your Settings, choose General, then Software Update.
Check your wireless: everything works better on the CPS private network. For example, you won't be able to use Airserver from the open wireless network. Look in your settings to make sure you aren't on CPS-Wireless. If you are on CPS-Wireless, talk to your media specialist about how to get on the private network.
Your password is wrong: we get this a lot. Today, it's common for teachers to have many, many passwords. When you are entering your password, make sure you have the correct username and are entering the password to the right account. I encourage people to
write your passwords down and keep them in a safe location.
Wrong email account: if you have more than one email account on your iPad, make sure you are sending from your CPS account when you are in district. If you are on a webmail (like Gmail, Yahoo, AOL, etc), it may look like you are sending the email, but it's likely stuck in cyberspace. When you hit another open wireless zone, then it will send.
Charge it: if you've kept it in a drawer for a while. First, I don't know why you'd do that. But if the screen is black, hold your power button. You might see a battery indicator with a low, red reading. Charge it for a few hours, and you'll be good to go.
Close your apps: if you have a ton of apps running, you might want to close a few down. Double tap the home button to reveal your task bar. Then press and hold one of the apps until they start wiggling. Press the minus button to close them.
Hopefully that will help some issues you've had or are going to have. If you are still really frustrated, you can always contact Ken.